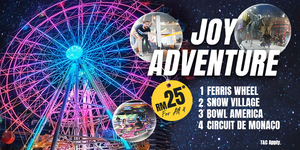 2023 Joy Adventure
*REMARKS: Package

CANNOT

be used on the same day as the purchase date. Package can only be used 1 day after purchase.
🎉

🎊

 

Grab Your 4-in-1 Entries
Package Redemption VALID from 18th September 2023 till 30th November 2023
The rate is applicable to Malaysian or non-Malaysian individuals, regardless of whether they are adults, children, or senior citizens.
Joy Adventure (single entry for all rides in operations) is VALID for SAME day only.
When activating any game or ride within the package, the entire ticket will expire on the same day of activation, irrespective of whether the ticket has been fully redeemed.
This package is redeemable by using our mobile app, download i-City SuperApp from Apple App Store or Google Play Store, your ticket will be pushed to your account. Just go to each attraction and flash the QR code from the mobile app. (VIEW GUIDE ON REDEMPTION THROUGH i-City SuperApp)
This package includes admission to Ferris Wheel, Snow Village, Bowl America, and Circuit de Monaco only.
No refund due to maintenance, ride closure and inclement weather.
This offer is available ONLINE and i-City SuperApp only.
Visit date has to be at least ONE DAY after the date of purchase and to be used BEFORE 30th November 2023.
Rides & Attractions included:
Ferris Wheel
Snow Village
Bowl America
Circuit de Monaco
General Operating Hours:
❗️ Please refer our latest Operating Hours here
General
Adult: 11 years old & above and below 60 years old
Child: Above 90cm and below 11 years old. (MUST be accompanied by a PAID ADULT at all times)
Infant: Below 90cm (Free entry subject to safety rules and regulations). NO prams allowed into the rides.
Senior Citizen: Above 60 years old (Child price applies for senior citizens)
OKU / Wheelchair user / Pregnant mom: Entry to i-City Theme Park rides and attractions for OKU / Wheelchair user / Pregnant mom guests is subject to the safety regulations and terms and conditions of the park. STRICTLY NO entry to the ride for safety reasons. Kindly call in for further enquiries.
Subject to safety height and weight regulations. Theme Park terms & conditions, rules & regulations apply.
Read: Online Ticketing Policy